Einladung zum 15. Januar 2021
Liebe Mitglieder und Gäste,
wir laden Euch ein zu unserem kommenden ZOOM Treffen am
Freitag, den 15. Januar 2021

um 19 Uhr
ZOOM Link wurde bereits per email verteilt.
Falls Ihr den Link benoetigt, bitte per email von email hidden; JavaScript is required erfragen.
Sprecher:
Arnd Herwig
Vice President Development
Brose North America
and
President German American
Business Council (GABC)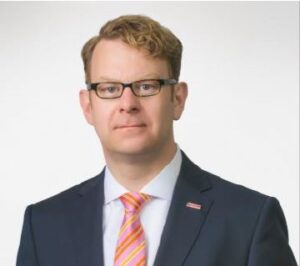 Thema:
Outlook, Trends and COVID Impact
on the Automotive Industry
and an update on GABC
Arnd Herwig joined Brose Fahrzeugteile GmbH & Co, KG., as Director Design for the Door Systems Business Division in Hallstadt, Germany, in 2000.
He was appointed Vice President Development (Engineering) Brose North America, Inc., on February 1, 2007, where he is responsible for the group's engineering activities and central engineering functions in North America (US and Mexico).
In addition to his work at Brose, Mr. Herwig is the President of the German American Business Council (GABC) of Michigan and a Board Member of the German American Chamber of Commerce (GACC), Midwest. He represents Brose as Vice Chair on the board of the Strategic Steering Committee for the Michigan Advanced Technician Training Program MAT²®.
Mr. Herwig graduated in 1994 with a Master's Degree in Mechanical Engineering from the University of Applied Sciences in Hannover, Germany.
Before joining Brose Mr. Herwig held managerial positions with Continental AG and Meritor Light Vehicle Systems (née Rockwell LVS).
This post is also available in: Englisch