Einladung zum Treffen am 18. November 2022
Liebe Mitglieder und Gäste,
wir laden euch herzlichst ein zu unserem GPWA Treffen, zum Basteln von Festtagsdekorationen bei
2733 Coolidge Hwy, Berkley
Tel. (248) 677-3630
am Freitag, 18. November 17:30 Uhr bis 20 Uhr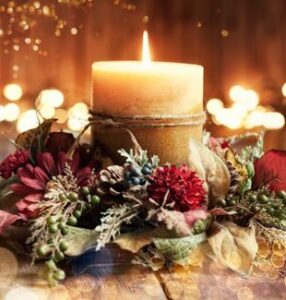 Wer Lust hat, kann gerne schon vorher kommen zu einer Tasse Tee bei
2816 Coolidge Hwy, Berkley
Tel. (248) 839-9404
(direkt gegenüber von Pinspiration) und dort Weihnachtsgeschenke oder etwas Besonderes für sich selbst einkaufen. Um 18 Uhr einfach über die Straße wechseln zu unserem Treffpunkt Pinspiration zum Basteln in Weihnachtsstimmung und fröhlicher Gesellschaft. Erfrischungen und Getränke sind im Preis eingeschlossen.
Beide Geschäfte befinden sich am Coolidge Hwy etwa 1 1/2 Meilen nördlich von I-696.
Damit alle Materialien und genügend Erfrischungen bereit stehen, wählt bitte aus, welche von den drei unten aufgeführten Festtags-Dekorationen ihr machen wollt und meldet euch verbindlich an bis spätestens
Freitag, 11. November auf diesem Link
1. The Advent Wreath just in time for the first week of Advent to celebrate in your home and reflect on the meaning of the season.
-or-
2. A Holiday or Winter Themed table or wall decor suitable for making your home festive or suitable as a hostess gift.
-or-
3. Celebrate the Festival of Lights with a Menorah or Hanukkah Themed home decoration.
The cost of the event is $65 which includes all the materials of your Make & Take craft, studio time, and refreshments.  Cash or check on the night of our event are preferred or PayPal in advance to pay.gpwa(at)gmail.com.
Wendet euch bitte mit Fragen an Danielle Workman at 586.242.6898 am besten per Text, oder ruft sie an auf 734.738.6300 x 2
Wir freuen uns auf Euch!
Liebe Grüße
euer GPWA Team
This post is also available in: Englisch