Invitation Brunch December 2, 2012
Please join us for GPWA's
Christmas Gathering
Brunch in Downtown Detroit at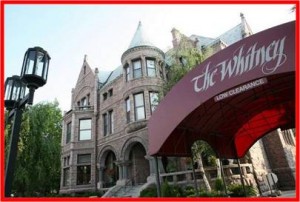 The Whitney
Sunday, December 2, 2012
at 11:30 am
4421 Woodward Avenue
Detroit, Michigan 48201
Telephone: (313) 832-5700
For this year's Christmas gathering, you are welcome to bring your family and friends for an unforgettable Brunch at Detroit's fabulous historic "The Whitney" restaurant.
Sunday Brunch at The Whitney is a sumptuous affair.
The elegant buffet includes :
all non-alcoholic beverages and endless mimosas (Champagne mixed with fruit juice),
Assorted Pastries and Breads,
Mixed Green Salad with your choice of Tomatoes, Red Onions, Cucumber,
Roast Beef Carving Station,
Seasonal Quiche,
Shrimp and Grits,
Seared Salmon with Dill Beurre Blanc,
Scrambled Eggs,
Grilled Chicken with Whole Grain Mustard,
Salad of the Day,
Potatoes O'Brien,
Grilled Vegetable Medley, Bacon, Sausage,
Shrimp Cocktail, and House Made Dessert Assortment.
 After brunch, you will have the opportunity to get together with other interested guests from our group to visit the Detroit Institute of Arts and see the famous Fabergé Exhibit or attend the 1:00 PM holiday music performance by the Vanguard Chorale which includes music from Handel's Messiah.
Attendance of this performance is included in the DIA entrance ticket, but tickets to the Fabergé Exhibit should be purchased ahead from the DIA to avoid disappointment, if this exhibit should be sold out.
Please note that a museum visit is up to each individual and not organized by GPWA.
Reserve your spot by November 12th – Seating is limited!
The costs for the brunch including tax and gratuity are $45 for adults and children over 10 and $18 for children under 10.
 Please fill in and detach the Form and mail it together with a check issued to GPWA Inc. to the following address:
GPWA Inc.
P.O. Box 476
Lake Orion, MI 48361-0476
Please note that cancellations are not reimbursable after November 23, 2012
For more information, please contact us at (248) 693-9341 or via e-mail at email hidden; JavaScript is required